2020 has brought many things, including a reminder of how important resilient, sustainable, productive, and healthy food systems are in our lives. For policy makers, it is a fundamental task to continue to invest in policies to tackle the "triple challenge" of simultaneously providing food security and nutrition to a growing global population, ensuring the livelihoods of millions of people working along the food chain farm to fork, and ensuring the environmental sustainability of the sector in the medium and long term. Studies show that whole grain foods save water, provide more food and less waste, and support better land use and healthy soil.
Join the WGI, the FAO, and a host of global leaders to discuss how the daily consumption of whole grains is a vital part of not only healthy, but also sustainable diets. Here you can find the detailed programme.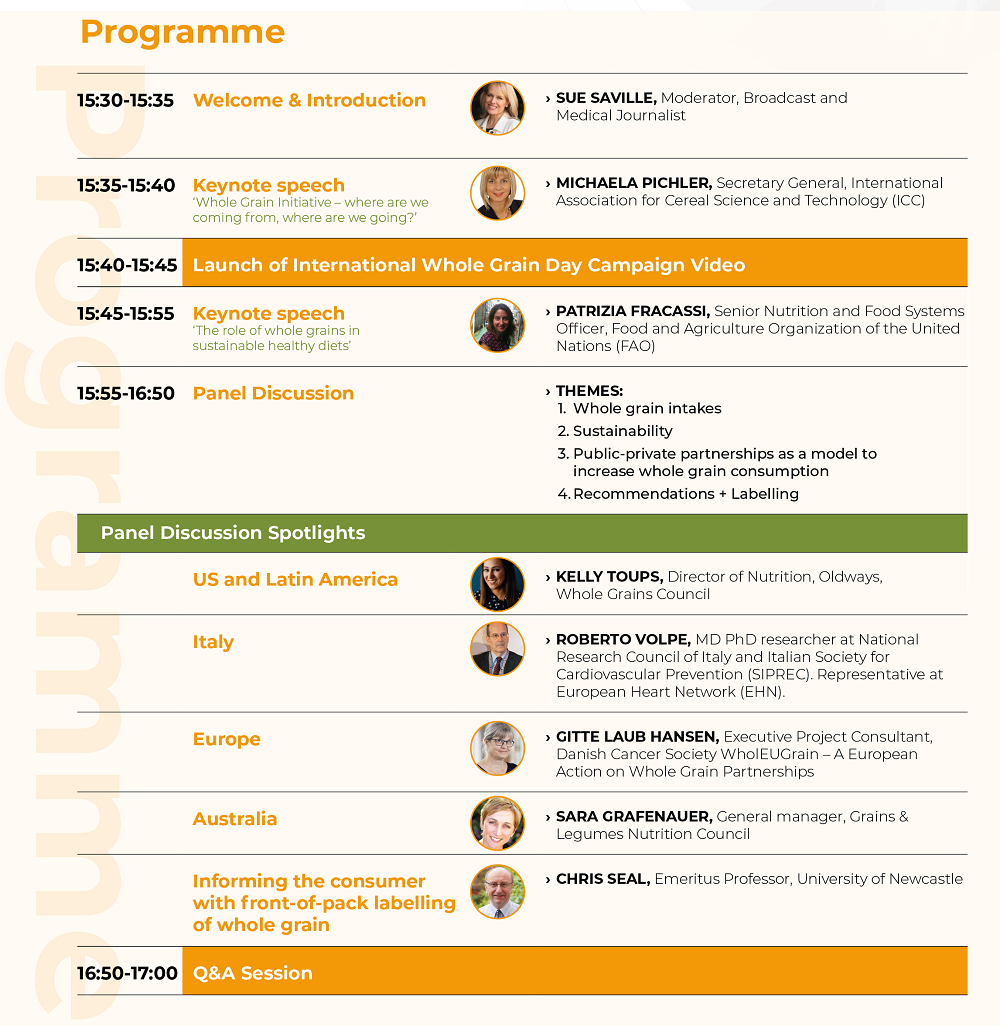 THREE EASY WAYS WGI PARTNERS CAN PARTICIPATE IN THE INTERNATIONAL WHOLE GRAIN DAY
1. Attend and Promote the WGI Roundtable Webinar on 19th November 2020 
Show your support for the Whole Grain Initiative by spreading the word about our webinar event on Thursday, 19th November at 3:30 pm Central European Time. Please spread the word to your audience via social media and newsletters! 
2. Plan a Whole Grain Event of Your Own
There are so many ways to celebrate International Whole Grain Day in your own community. Organize an educational webinar or a whole grain baking class for your own audience. If you're a food company, offer a special discount or giveaway to celebrate the big day. Choose a local school or charity and make a donation of whole grain products. The possibilities are endless, and we encourage you to be creative!
3. Share Whole Grain Content on Your Social Channels All Month Long                           
We encourage you to celebrate International Whole Grain Day in your own way. Share your favorite whole grain recipes, talk about your favorite grains, provide your audience with tips for finding and enjoying whole grains. Just remember to use #internationalWGDay, #makeyourgrainswhole, or #choosewholegrains to help amplify your message! You can also tag us at @eatwholegrains on Twitter and Instagram. We'll be sharing content throughout November and encourage you to lend your voice as well!
As the COVID-19 virus pandemic, early in 2020, started spreading worldwide and disrupting travelling opportunities, the conference organizers have taken the responsible decision for the safety and well being of all participants to postpone the WGS to 25-27 October 2021, as an ONLINE conference.
Please refer for all details to the conference website which will be constantly updated.