International Whole Grain Day 2023
In celebration of our 5th annual International Whole Grain Day, the Whole Grain Initiative is hosting three events in three different regions:
an event at the EU Parliament focused on promoting lifelong health and sustainable habits
a weeklong campaign in Australia promoting whole grains for the whole family
a webinar aimed at an American audience focused on strategies for increasing whole grain intake among children
We invite you to join us as we celebrate whole grains all around the world. See each event's details below for more information and links to register.

The International Whole Grain Day 2023

Empowering the Next Generations with Whole Grain

15 November 2023 — 16:00 - 17:30 (CET)

A diet low in whole grains is the second greatest dietary risk factor for death according to the 2017 Global Burden of Disease study, and yet whole grain consumption continues to fall well below recommended levels in most parts of the world. Whole grains are key to healthy diets at every stage of life, and research shows that introducing whole grains at a young age helps establish healthy habits that can last a lifetime. Whole grains are also an excellent sustainable food choice – they have minimal environmental impact, are nutritionally dense and weather resilient, and can be stored for long periods, making them a natural staple of most diets around the globe.

On 15 November 16:00-17:30 CET, the WGI and a host of global leaders will convene at the EU Parliament to explore the vital role of educating children and young people about the benefits associated with whole grain consumption and ways to inspire them to integrate these nutritious choices into their daily diets.
The discussion has been live-streamed, and we encourage you to tune in below! Please see the programme HERE and the slide deck HERE.
Empowering Next Generations with Whole Grain
Wednesday, November 15, 2023 4:00 PM | (UTC+01:00) Amsterdam, Berlin, Bern, Rome, Stockholm, Vienna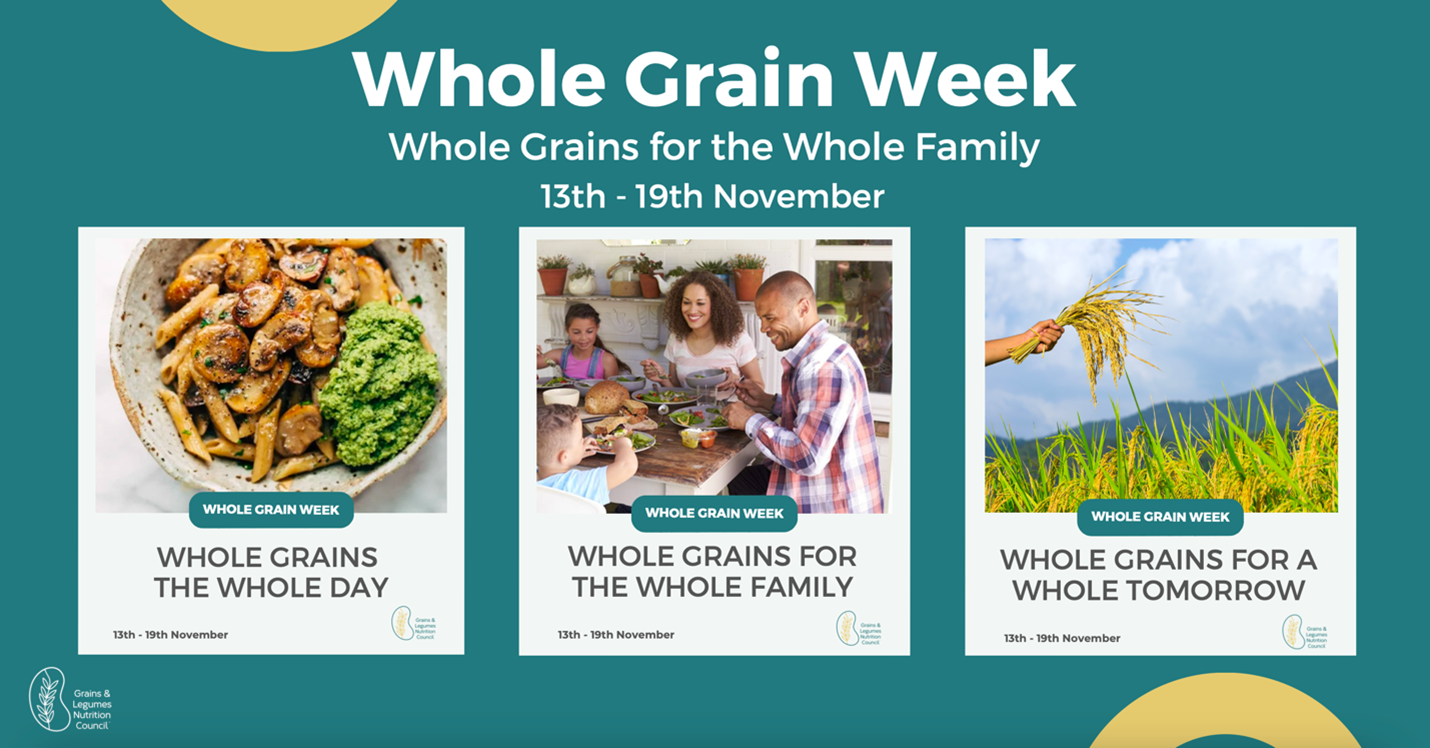 In Australia, we're celebrating an entire week of whole grains, from 13th – 19th November. We will be working with the entire food supply chain, from grain growers and food manufacturers to dietitians and nutritionists, to encourage more people to eat whole grains. We will be focusing on the benefits of whole grains for the whole family, how to eat whole grains the whole day, and how eating whole grains will support a whole tomorrow.
Below find a recipe e-book called, Healthy Made Delicious, which is now available for download. Furthermore, we will be releasing a whole grain video and other whole grain materials via social media.
Podcast with Kathy La Macchia – General Manager, Grains & Legums Nutrition Council
on
"Why Whole Grains are the Missing Piece to Health for the Whole Family"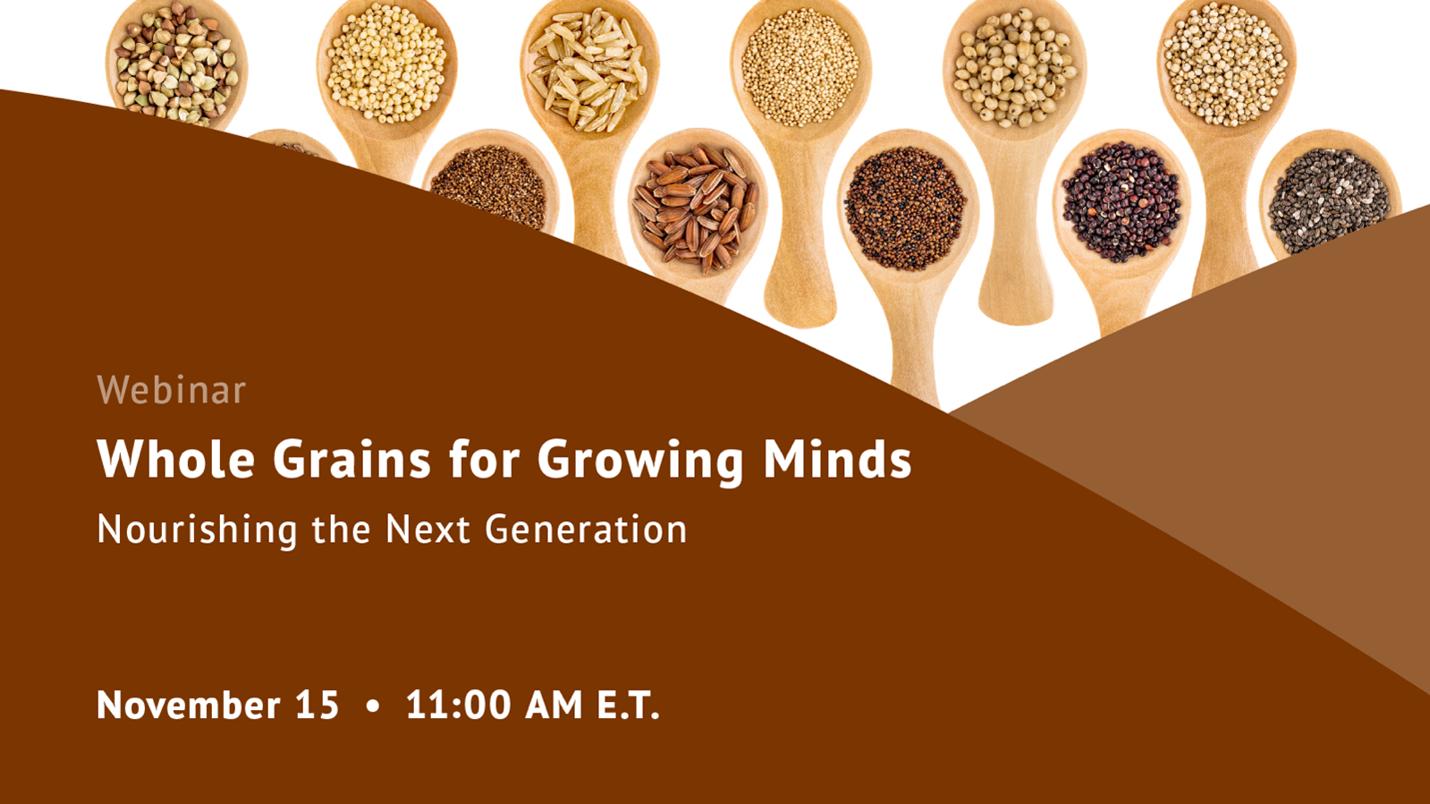 In the United States, we will be hosting a webinar titled Whole Grains for Growing Minds. Research shows that introducing children to the flavors and textures of whole grains at a young age can help establish healthy habits that will last a lifetime. In this session, Dr. Juliana Cohen, Adjunct Professor of Nutrition at the Harvard School of Public Health, will discuss her research looking at whole grain acceptability in the school lunchroom and share why school lunches offer such an ideal opportunity for exposing kids to whole grains. Sharon Palmer, MSFS, RDN, The Plant-Powered Dietitian will then speak about the nutrition benefits of whole grains in children's diets and what the recommendations are for different age groups, as well as sharing tips for helping kids get excited about whole grains.
We invite you to attend this webinar by registering HERE.
In Latin America, FINUT – the Iberoamerican Nutrition Foundation – has put together a webinar to help increase whole grain intake in the LATAM population. This event will take place on November 15th from 11am-1pm CST (Mexico City Time). Speaker sessions will include topics covering whole grains as they relate to regenerative agriculture, public policy, and public health. Learn more and register HERE.
EUFIC's #SwitchToWholeGrains Challenge

#SwitchToWholeGrains Challenge
The European Food Information Council (EUFIC), supported by the Whole Grain Initiative, is launching a social media challenge, "#SwitchToWholeGrains" to inspire European citizens to integrate more whole grains into their daily diets.
Join us as we support your journey towards healthy eating and provide valuable information on the numerous advantages of whole grains!
How to participate:
There are infinite ways to include more whole grain in your meals, whether by swapping white basmati for brown rice or choosing a non-traditional baguette. It's all about making these simple switches! EUFIC can provide you with a comprehensive list of whole grains, and tips to increase your intake.
To participate simply:
Take your smartphone and document your whole grain swaps!
Post them on social media using the hashtag #SwitchToWholeGrains and tagging @EUFIC and @eatwholegrains.
Interested in catching up on last year's webinar content?