The International Whole Grain Day 2021, November 16th
The Covid-19 Pandemic has brought many things, including a reminder of how important resilient, sustainable, productive, and healthy food systems are in our lives. For policy makers, it is a fundamental task to continue to invest in policies to tackle the "triple challenge" of simultaneously providing food security and nutrition to a growing global population, ensuring the livelihoods of millions of people working along the food chain farm to fork, and ensuring the environmental sustainability of the sector in the medium and long term. Studies show that whole grain foods save water, provide more food and less waste, and support better land use and healthy soil.
As part of our 3rd Annual International Whole Grain Day celebration, watch key opinion leaders from around the globe offer their support for whole grains!
The International Whole Grain Day Webinar
On Nov. 16th, 3:30-5:00 PM CET the WGI and a host of global leaders discussed how the daily consumption of whole grains is a vital part of not only healthy, but also sustainable diets.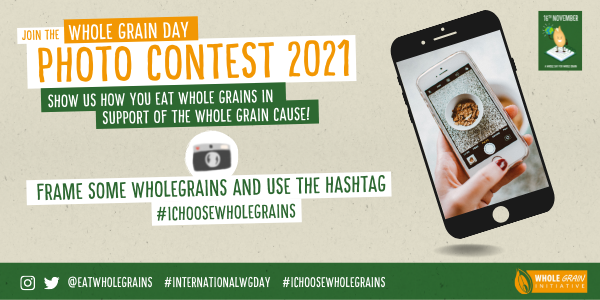 Sign & share the Whole Grain Day Pledge
The 
Whole Grain Pledge
, linked below, gives everyone the opportunity to do their part in supporting whole grains! Anyone from consumers to dietitians to nonprofits are encouraged to sign the Pledge. Share with your networks, promote to your social media, and show your support by submitting your own call-to-action!